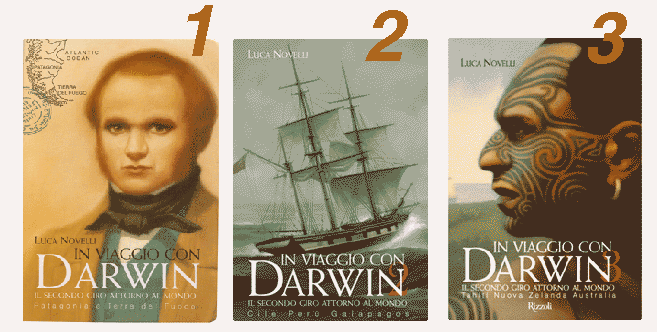 First step (2005-2006) and first book:
London, Cape Verde (Santiago, Citade Velha, San Domingo, Praia), Rio de Janeiro, Buenos Aires, Santa Fe, Maldonado, Rio de La Plata, Bahia Blanca, Carmen Patagones, Puerto Deseado , Puerto San Julian, Puerto Santa Cruz, Rio Santa Cruz (+ El Calaphate, El Chalten), Mount Fitzroy, Lago Argentino, Perito Moreno Glacier ), Tierra del Fuego, Canal Beagle (Ushuaia), Cape Horn.
***

Second step (2007) and the second book:
the Strait of Magellan, Punta Arenas, Port Famine (Puerto de Hambre), Puerto Natales (Torres del Paine +) Seno Ultima Esperantia, Golfo de Penas, Laguna San Rafael, Chacabuco, Aisen, Chonos Islands, Puerto Montt, Chiloè, Volcano Osorno, Concepcion, Santiago, Cordillera de los Andes, Mendoza (Argentina), Valparaiso, Hacienda San Isidro, Monte Campana, Lima, Callao, Guayaquil, Galapagos.
***
Third step (2008), Book Three:
Departure from Los Angeles, Tahiti, Moorea, New Zealand, Waimate Mission, Bay of Islands, Paihia (+ Auckland, Tongariro National Park, Wellington), Sydney, Bathurst, Blue Mountains, Tasmania, Hobart, Port Arthur , Mt Wellington (+ Melboune, Urulu, Kata Tjuta National, Park), King George Sound (+Albany, Perth), Cocos Islands, Mauritius, Heathrow airport.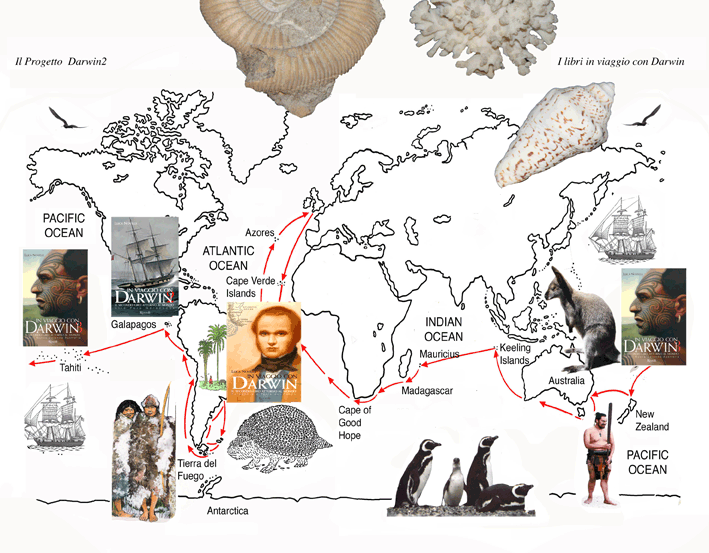 .
The three volumes are as solid Moleskine with more than 200 pages, full color. Each volume also contains 4 large inserts that show maps, drawings and original photographs. To recount this extraordinary journey through time is the voice of Darwin himself.
The cover images are by Gianni de Conno, and within each volume contains a reproduction of a large picture (2.50 mx 1.00 m), made during the various missions by Federico Canobbio Codelli, painter of glaciers and philosopher of science. Photos by Luca Novelli and his traveling companions.